In recent OS X versions, Apple has added "AppNapp" as a feature intended to improve battery life. AppNap will effectively put application to sleep if they have no open windows, or if their open windows are completely obscured by other applications.
Unfortunately, the AppNap feature is always active, even when it makes absolutely no sense - for example on desktop Macs, or if a MacBook is plugged in. This can cause problems with the Aligner License Server becoming unresponsive, or when CodonCode Aligner performs long-running calculations in the background. Fortunately, it is easy to disable AppNap for specific applications, as follows:
Open a Finder window and navigate to the application (e.g. the "Aligner License Server" folder in "Application"
Right-click on the application icon to bring up the popup menu, an choose "Get Info" (or click on the application to select it, and press Apple-I)
In the dialog that opens, click on the "Prevent App Nap" checkbox in the "General:" section - it must be checked
Close the dialog
Here is what the dialog should look like: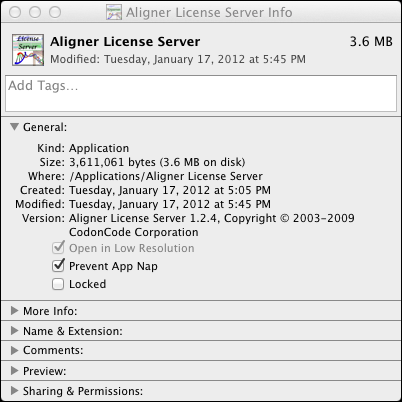 If you later upgrade the program, you will have to repeat this procedure. Alternatively, you can
disable AppNap for all applications on your computer following these instructions
.